Home > Events > ArtisTree Selects: Theatre Bites – Our Man in Havana
ArtisTree Selects: Theatre Bites – Our Man in Havana
13-15/06/2019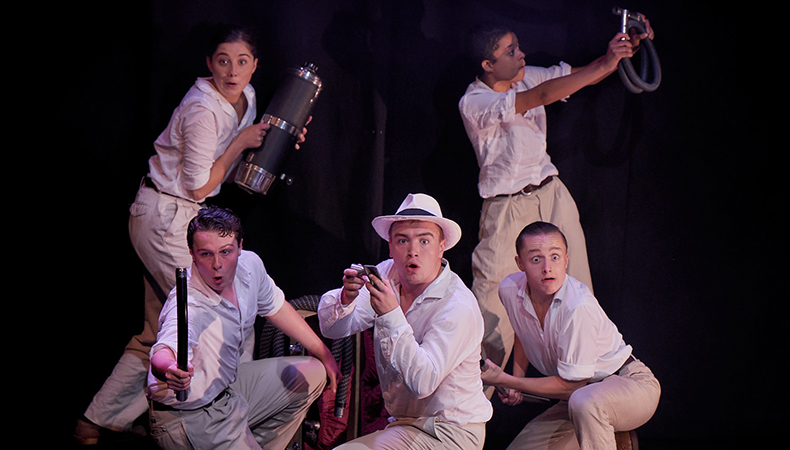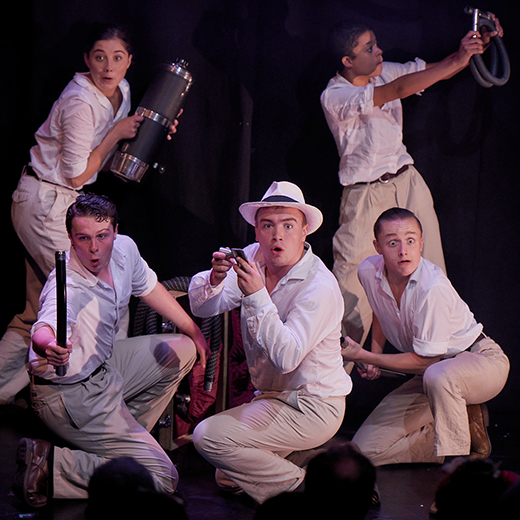 Havana, Cuba! A Cold War world of suspicion, suspense and silliness. Amidst the sultry and seductive climes of Havana our heroes twirl, twitch and tango away from enemy agents, MI6 and the truth. Jim Wormold, a run-of-the-mill vacuum cleaner salesman turned accidental spy, resorts to fabricating ludicrous military reports in order to save his business and satisfy his decadent daughter, beginning a hilarious and improbable rise to the top of the British Secret Service.
An award-winning comedy by Spies Like Us, packed with suspense, suspicion and silliness using only five actors and a vacuum cleaner in their trademark explosive physical style.
SELL-OUT SHOW Edinburgh Festival Fringe 2017
MUST-SEE SHOW Fringe Review 2018
★★★★★ Everything Theatre, British Theatre Guide
Performances currently on sale (via the Taikoo Social app):
- Thursday, 13 June (7pm)
- Friday, 14 June (9pm)
- Saturday, 15 June (7pm)
Open Rehearsal (on sale soon):
- Thursday, 13 June (12:30pm)
---
Part of ArtisTree Selects: Theatre Bites. Theatre Bites offers five irresistible and bite-sized British plays presented in collaboration with Lindsey McAlister, founder of Hong Kong Youth Arts Foundation (HKYAF), and Tony Awards-winning producer Brian Zeilinger. Tuck into everything from highly entertaining tales of spies and gangsters, to the most hotly debated global and social issues of our time: environmental, gender and diversity. Presented alongside the thought-provoking live performances, Theatre Bites will give you the chance to see what happens behind the scenes through open rehearsals and talks for selected shows.
Other ArtisTree Selects: Theatre Bites Programmes
- If Not Me, Who?
- Sitting
- No Kids
- Tobacco Road
Download and book tickets via Taikoo Social app
TAGS:
Performing Arts
Information
Theatre Performance
Date: 13-15/06/2019 (Thu-Sat)
Venue: ArtisTree, 1/F Cambridge House, Taikoo Place, King's Road 979, Quarry Bay
Registration Deadline: 29/04/2019 (Mon)
Enquiries: anca@hkyaf.com
Ticketing: Download and book via Taikoo Social app
Suitable for: ages 8 and above
Note: Approximately 60minutes with no intermission. Performed in English

THIS EVENT HAS FINISHED!
And it was very successful! Sign up to our mailing list to be the first to hear about upcoming events… don't miss out!
Share
Tell your friends about this event!
Related Events
25/07-28/08/2022
Jockey Club "Project Silver" Intergenerational Arts Project: "The City Talks" Seeking Youth Scriptwriters
What comes to mind when you hear the words "Old Hong Kong"? All of us have our own unique memories about our lives in Hong Kong – why not put them into words and share them with the world?

01/07-31/08/2022
Jockey Club "Project Silver"– Intergenerational Arts Project "Every Note Counts": Seeking Volunteer Musicians
Music has the power to heal and inspire. If you are a musician or singer keen to share your passion for music with the community, join us and support our volunteer programme Every Note Counts!

01/05/2022-01/05/2023
Recruiting Professional Costume Designers (Project-based)
If you are a costume designer looking for a stage to showcase your work and a chance to engage with the community, join us and bring stories to life through creative costumes!

16/04-23/07/2022
Song Seeds: Music Mixtape - Youth Singer-songwriters Recruitment
Eager to express your emotions through singing and share original songs with the world? Join us this April to celebrate the power of music, learn the art of successful songwriting, and let us help make your dreams come true!