Home > Events > Jockey Club "Project Silver" Intergenerational Arts Project 2021: Modern Chinese Poetry Workshop – Seeking Youth Participants
Jockey Club "Project Silver" Intergenerational Arts Project 2021: Modern Chinese Poetry Workshop – Seeking Youth Participants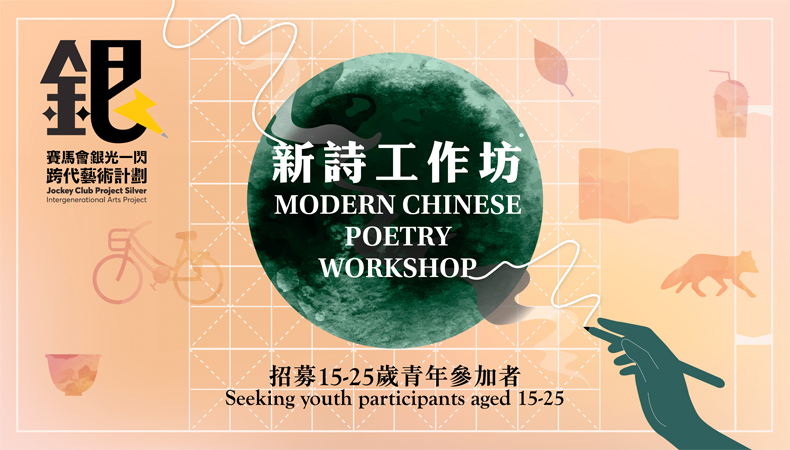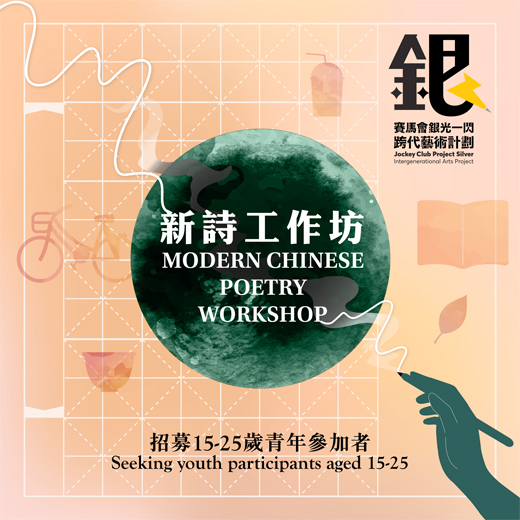 Throughout history, writers have used the lyrical art of poetry to record loves, lives and important events. Though literary styles and tastes have changed over time, poetry remains a powerful tool for self-expression.
This summer, join us at our Modern Chinese Poetry Workshop to learn more about contemporary styles, and experiment with creative ways of recording the personal stories of senior members of the community. The three-part workshop is conducted in Cantonese and begins with a meet-and-greet session in July, where participants come together to hear the stories of a group of elderly citizens. In August and September, participants take part in a series of seven writing workshops, exploring the unique form and features of modern Chinese poetry and how to craft their own poems based on the personal stories they have heard. In the final part of the process, participants perform their completed pieces. A recording of the performance will be presented at the Jockey Club "Project Silver" Intergenerational Arts Project exhibition and online platform in October and November.
The free-of-charge workshop is open to youth participants who are interested in engaging with the elderly and expressing themselves through modern Chinese poetry. Places are limited and allocated on a first come, first served basis. To be part of this rewarding creative writing experience, register online on or before 20 July 2021.
---
Meet and greet preparation meeting:
Date: 22|07|2021
Time: 6pm – 8pm
Venue: HKYAF studio
Meet and greet session with elderly members of the community:
Date: 25|07|2021
Time: 3:30pm – 6:30pm
Venue: HKYAF studio
Writing workshops:
Date: 01, 08, 15, 22, 29|08 – 05, 12|09|2021 (Sunday)
Time: 9:30am – 11:30am
Venue: HKYAF studio
Filming preparation (conducts in groups):
Date: 15, 17|09|2021
Time: 5:30pm – 9:30pm
Venue: Taikoo
Filming:
Date: 18|09|2021 (Saturday)
Time: 10am – 6:30pm
Venue: TBC
Tutor:
Tsui Cheuk Yin
Guest Speaker:
Sue Leung
Wesley Lam
KKH
Tsang Wing Chung
TAGS:
Performing Arts, project silver, modern chinese poetry
Finished
Information
Seeking youth participants
Fee: Free admission, online registration required
Registration Deadline: 20/07/2021 (Tue)
Enquiries: henrietta@hkyaf.com
Suitable for: Ages 15 to 25
Note: Conducted in Cantonese

THIS EVENT HAS FINISHED!
And it was very successful! Sign up to our mailing list to be the first to hear about upcoming events… don't miss out!
Share
Tell your friends about this event!
Funded by

Related Events
25/11/2021, 26/11/2021, 27/11/2021, 27/11/2021
Miller Performing Arts: Only a Girl — Advance School Bookings
Our flagship theatre production "Only A Girl" opens this November. Advance school bookings are available now!

12/09-21/11/2021
The Hong Kong Jockey Club Community Project Grant: stART Up Community Arts Project 2022 Ink In Motion – Modern Chinese Poetry Programme
Join us for our Modern Chinese Poetry Programme Ink in Motion to experiment with creative ways of exploring your self-identity. You will learn to craft poems based on themes of empathy, mutual assistance and equality in the community.

05-26/09/2021
Jockey Club "Project Silver" Intergenerational Arts Project 2021: Punch Needle Embroidery Workshop – Seeking mixed generation participating duos
Suitable for beginners of all ages, spend some quality time with an older relative and learn to create beautiful "embroidery paintings".

12/08-31/12/2021
Miller Performing Arts: #BetheChange: Tipping the Scales
"In recent years, researchers estimate a pangolin was poached every 21 minutes to fuel the illegal trade in Hong Kong alone. Globally, a pangolin is poached from the wild every 5 minutes."

15/07-31/12/2021
Standard Chartered Youth Creative Industry Employment Scheme
The Standard Chartered Youth Creative Industry Employment Scheme provides employment opportunities for youth graduates to jumpstart their creative careers.