Home > Events > Standard Chartered Arts in the Park 2021
Standard Chartered Arts in the Park 2021
06-07/11/2021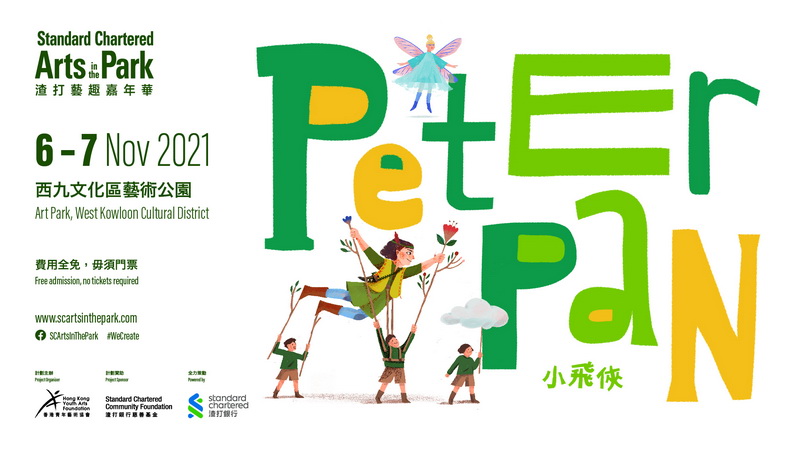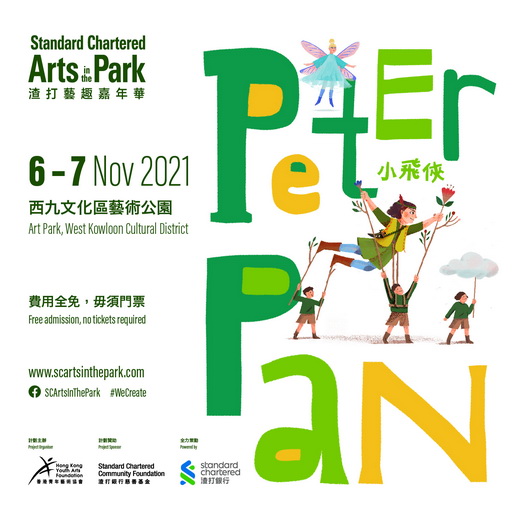 Are you ready to embark on a fantasy adventure to the magical island of Neverland?

Hong Kong's largest and much-anticipated outdoor youth art event and puppet parade – Standard Chartered Arts in the Park is back! This year we present two days of live outdoor performances and a week-long programme of online activities – all inspired by the magical story of Peter Pan.

Now in its 21st year, the two-day carnival takes place on 6 and 7 November in the West Kowloon Cultural District – transforming the Art Park into a magical Neverland of Giant Puppet and Dramatic Costume Showcase, interactive arts stalls, stage performances, storytelling and lots more! There are also exhibitions showcasing around 9,000 pieces of dreamcatchers and hand-painted feathers resembling giant pairs of colourful wings, and a photo area for capturing fun moments with family and friends.

Between 1 and 5 November, in the run up to the parade weekend, we present a week-long programme of online performances on www.scartsinthepark.com and arts activities to help children get creative at home with the family. Activities include storytelling theatre performances, a peg puppet parade, a crocodile paper sculpture craft, costume making demonstrations, dance performances, a cappella singing, and lots more!
​Mark the dates in your diary and join Peter Pan, Tinker Bell, Wendy, Captain Hook and Tiger Lily for a wonderful adventure!
TAGS:
Performing Arts, Visual Arts, Parade, Puppet, Peter Pan
Information
Event Days
Date: 06-07/11/2021 (Sat-Sun)
Time: 11:00am-5:00pm
Venue: Art Park, West Kowloon Cultural District
Fee: Free admission, no ticket required
Enquiries: info@hkyaf.com
Suitable for: all ages

Project Organiser


​

Project Sponsor


​

Powered by ​
Related Events
01/03-30/04/2022
Youth Creative Industry Employment Scheme – "Unplugged" Performance for Schools
Our lively physical theatre production "Unplugged" is designed to help senior primary school students learn how to navigate the online world. If you would like to bring this fun, free theatre production to your students, simply fill out our online registration form!

22/02-30/04/2022
Standard Chartered Youth Creative Industry Employment Scheme - Theatre and Technical Arts
A four- to six-month programme of paid professional theatre training and touring at local schools

03-04/12/2021
Project After 6: MOU MAN TAI Auditions

25/11/2021, 26/11/2021, 27/11/2021, 27/11/2021
Miller Performing Arts: Only a Girl — Advance School Bookings
Our flagship theatre production "Only A Girl" opens this November. Advance school bookings are available now!

25/11/2021, 26/11/2021, 27/11/2021, 27/11/2021
Miller Performing Arts: Only a Girl
This November, 50 talented young local actors and dancers take the stage to present Only a Girl – a bittersweet LGBT+ tale about a girl's road to self-discovery. Public ticket sales start on 8 October 2021 at 12 pm at POPTICKET.