Home > Events > HK Urban Canvas 2022 – Exhibition
HK Urban Canvas 2022 – Exhibition
23/05-01/06/2022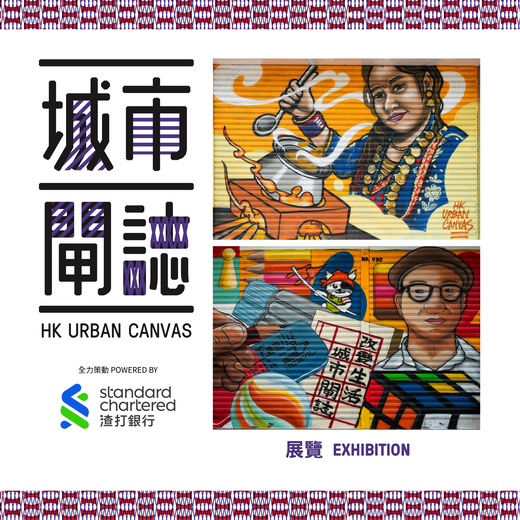 Hong Kong is renowned for its dense high-rise streetscapes. If you look closely, these streets have lots of secrets – with old corner groceries, stationery stores and laundry shops that hold traces of the city's history and keep collective memories alive. This year, the HK Urban Canvas 2022 Exhibition showcases a total of 83 shopfront shutter artworks that we have created in nine districts since 2017. Don't miss this chance to view these colourful works and learn the unique stories of the businesses behind the shutters!

Organised by Hong Kong Youth Arts Foundation and powered by Standard Chartered Bank (Hong Kong) Limited, HK Urban Canvas is a community art project that enhances community inclusion and highlights unique aspects of local culture through art and oral history. Since 2017, our vibrant shutter artworks have been showcased in neighbourhoods around the city, including Wan Chai, Central and Western District, Sham Shui Po, Kowloon City, Mong Kok, Yau Ma Tei and Ap Lei Chau. The project has highlighted the city's transition from a place of fishing villages to a centre for trade, manufacturing and finance, and explored its diverse food culture, traditional crafts, deities, markets and shops.

​This year, we celebrate the history of Jordan's Nepali community and traditional trades, the old industrial area of Quarry Bay, and the former fishing community of Shau Kei Wan. Between 23 May and 1 June, visit our free exhibition at G/F, Cityplaza South and get an exclusive gift when you download our HK Urban Canvas mobile app. Stay tuned for the latest information on our website and Facebook page (@HKUrbanCanvas).
TAGS:
Visual Arts, HK Urban Canvas
Information
Exhibition
Date: 23/05-01/06/2022 (Mon-Wed)
Time: 10:30am-8:30pm
Venue: G/F, Cityplaza South
Fee: Free admission, no ticket required
Enquiries: yan@hkyaf.com / 2877 2779
Suitable for: All ages

Project Sponsor
Powered by ​
Venue Partner

Related Events
23/05/2022
HK Urban Canvas 2022 Mobile Application
On 23 May, we launch the latest edition of the HK Urban Canvas mobile app – featuring four new cultural tour routes in Jordan, Shau Kei Wan and Quarry Bay, and 21 new shutter artworks highlighting neighbourhood stories!

13/05-30/06/2022
HK Urban Canvas 2022 Guided Cultural Tour
Looking for something fun to do at the weekend? Join us on our HK Urban Canvas 2022 guided cultural tours and explore colourful new street art in Hong Kong!

21/02-31/08/2022
Jockey Club "Project Silver" Intergenerational Arts Projects Colouring App Introduction Session
The latest updated version of Hong Kong's first colouring app for elderly users – Jockey Club "Project Silver" Intergenerational Arts Project Colouring App – is now available for download with more than 100 iconic images of old Hong Kong!

01/02-30/05/2022
Beyond Environmental Arts Festival – School Recruitment
2022 marks the first year of our new Beyond Environmental Arts Festival. We are now recruiting primary and secondary schools to participate in artist-in-residence programmes as a way to raise students' awareness of environmental issues and inspire them to take action to protect our planet!