Home > Events > Series & Festivals > Standard Chartered Arts in the Park 2022 > Standard Chartered Arts in the Park 2022
Standard Chartered Arts in the Park 2022
03-04/12/2022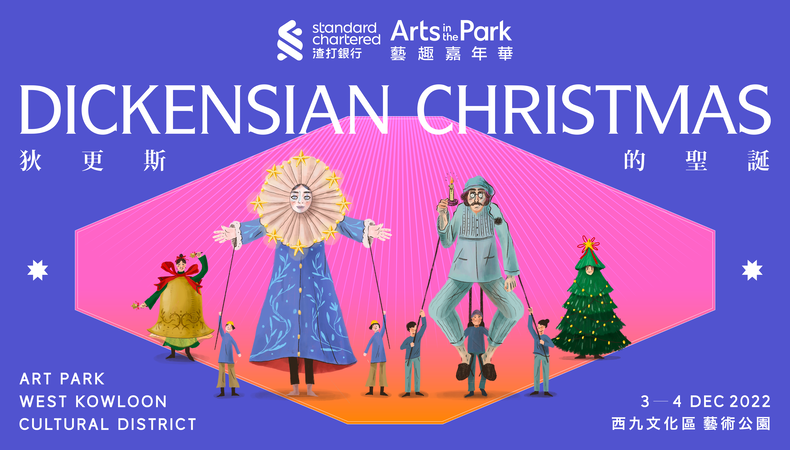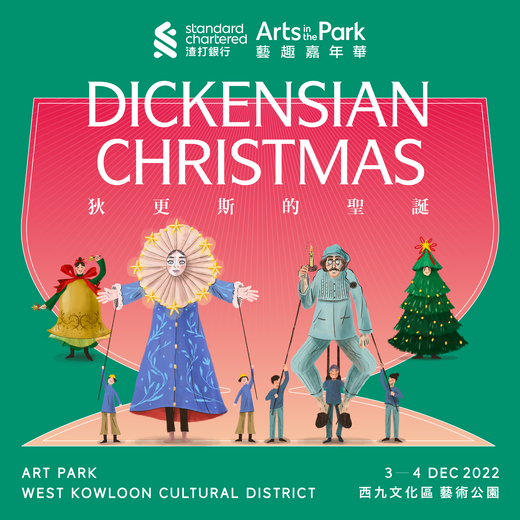 This December, travel back in time to nineteenth-century Victorian England for a festive Dickensian Christmas!

Standard Chartered Arts in the Park – Hong Kong's largest outdoor youth arts carnival – returns with two days of outdoor showcases and performances, all inspired by four wonderful works by British writer Charles Dickens: Oliver Twist, A Christmas Carol, David Copperfield and Great Expectations. As well as fun outdoor events, the programme also includes a week-long programme of online activities. Join us and soak up some old-fashioned Christmas spirit!

The two-day live outdoor spectacle takes place on 3 and 4 December in the West Kowloon Cultural District Art Park – transforming the park with a series of exciting free art activities. Head over and enjoy Hong Kong's largest original Giant Puppet and Dramatic Costume Showcase, eleven interactive art stalls, stage performances, storytelling theatre performances, a capella performances, African drum jams, circus performances, installations featuring 9,000 artworks, and a giant puppet photo area for capturing fun moments with family and friends!
In the run-up to the event weekend, from 28 November to 2 December, we also have an exciting programme of online activities at www.scartsinthepark.com.The free-of-charge, festive activities include storytelling theatre performances, an a cappella performance, two DIY activities featuring paper puppets and a festive face mask, plus festive gift wrapping ideas and a balloon twisting activity – all designed to help children get creative at home with the family, and put everyone in a carnival mood!

For more information about Standard Chartered Arts in the Park, please visit www.scartsinthepark.com or follow us on Facebook @SCArtsInThePark.
【Standard Chartered Arts in the Park】 is an accredited event celebrating the 25th Anniversary of the Establishment of the Hong Kong Special Administrative Region.
TAGS:
Performing Arts, Visual Arts
Part of
Standard Chartered Arts in the Park 2022
Information
Event Day
Date: 03-04/12/2022 (Sat-Sun)
Time: 11:00am-5:00pm
Venue: Art Park, West Kowloon Cultural District
Fee: Free admission, no ticket required
Enquiries: info@hkyaf.com
Suitable for: All ages

THIS EVENT HAS FINISHED!
And it was very successful! Sign up to our mailing list to be the first to hear about upcoming events… don't miss out!
Share
Tell your friends about this event!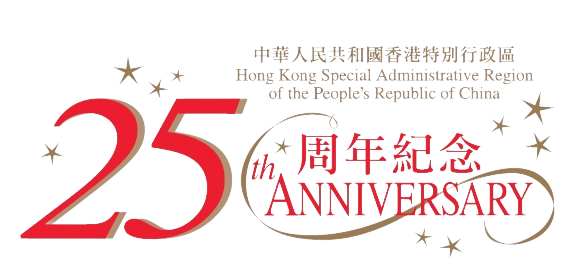 Project Sponsor





Powered by ​​