Home > Events > Miller Performing Arts: Only a Girl
Miller Performing Arts: Only a Girl
25/11/2021; 26/11/2021; 27/11/2021; 27/11/2021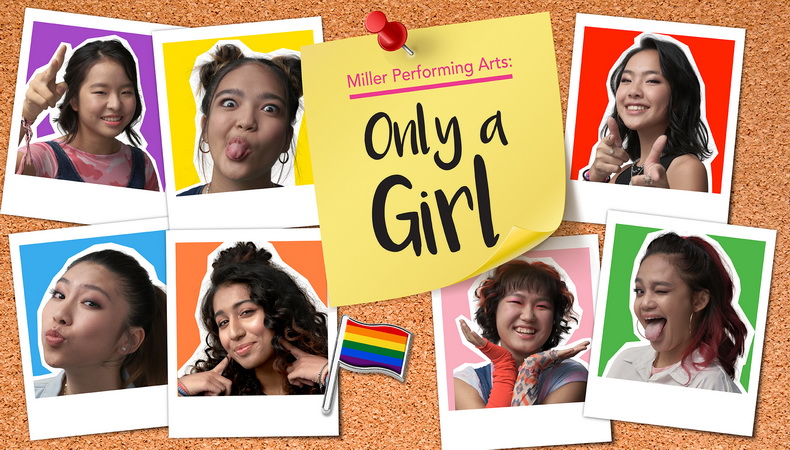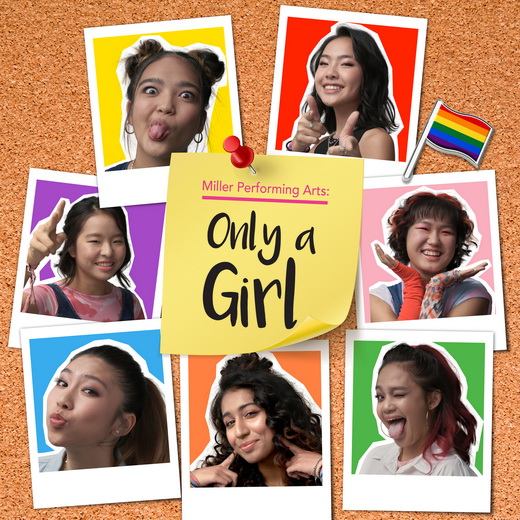 This November, 50 talented young local actors and dancers take the stage to present Only a Girl – a bittersweet LGBT+ tale about a girl's road to self-discovery.
Written and directed by HKYAF's founder Lindsey McAlister, Only a Girl begins with a chance encounter on the MTR that turns 15-year-old Jazz's predictable world upside down. As the sparks of first love ignite, she learns how to navigate conservative parents, a nosey sister, curious friends and a new secret life. But will she find a way to live fully and openly?
Public ticket sales start on 8 October 2021 at 12 pm at POPTICKET.
Information
Theatre Performance #1
Date: 25/11/2021 (Thu)
Time: 7:30pm-9:30pm

Theatre Performance #2
Date: 26/11/2021 (Fri)
Time: 7:30pm-9:30pm

Theatre Performance #3
Date: 27/11/2021 (Sat)
Time: 2:30pm-4:30pm

Theatre Performance #4
Date: 27/11/2021 (Sat)
Time: 7:30pm-9:30pm
Venue: Shouson Theatre, Hong Kong Arts Centre
Enquiries: mag@hkyaf.com / 2877 2656
Ticketing: Regular tickets: $300, $250* Concessions: $260, $220* (*Restricted views)
Suitable for: ages 10 and above
Note: Performed in English with Chinese subtitles; Running time approx. 120 minutes, no intermission; Latecomers will only be admitted during a suitable break in the performance. Please note this show contains references to teenage pregnancy, displays of homophobia and violence against LGBTQ+.

THIS EVENT HAS FINISHED!
And it was very successful! Sign up to our mailing list to be the first to hear about upcoming events… don't miss out!
Share
Tell your friends about this event!
Project Partner



​Supported By

Related Events
01/07-31/08/2022
Jockey Club "Project Silver"– Intergenerational Arts Project "Every Note Counts": Seeking Volunteer Musicians
Music has the power to heal and inspire. If you are a musician or singer keen to share your passion for music with the community, join us and support our volunteer programme Every Note Counts!

26/06/2022
Miller Performing Arts: RAW A Cappella Summer Academy 2022 – Auditions
Are you passionate about singing or beatboxing and curious to learn more about a cappella and vocal percussion? If yes, our fun-filled, fast-paced, two-day summer programme at the RAW A Cappella Summer Academy could be a perfect match.

07/06/2022, 09/06/2022, 09/06/2022
Standard Chartered Arts in the Park 2022: Auditions for Youth Dancers
Calling all youth dancers! It's time for you to shine! Join us and be part of our stage performances and the Giant Puppet and Dramatic Costume Showcase at Standard Chartered Arts in the Park 2022 this December and show off your moves as the city gathers to celebrate the arts!

01/05/2022-01/05/2023
Recruiting Professional Costume Designers (Project-based)
If you are a costume designer looking for a stage to showcase your work and a chance to engage with the community, join us and bring stories to life through creative costumes!

16/04-23/07/2022
Song Seeds: Music Mixtape - Youth Singer-songwriters Recruitment
Eager to express your emotions through singing and share original songs with the world? Join us this April to celebrate the power of music, learn the art of successful songwriting, and let us help make your dreams come true!