Home > Gallery
Gallery
Year 2022
03-04/12/2022
Standard Chartered Arts in the Park 2022 – Giant Puppet and Dramatic Costume Showcase
At 2:30pm on 3 and 4 December, Standard Chartered Arts in the Park presents the highly anticipated Giant Puppet and Dramatic Costume Showcase in the West Kowloon Cultural District Art Park.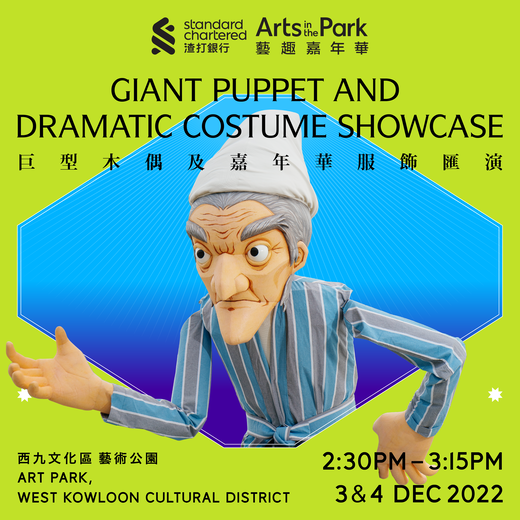 03-04/12/2022
Standard Chartered Arts in the Park 2022
This December, travel back in time to nineteenth-century Victorian England for a festive Dickensian Christmas!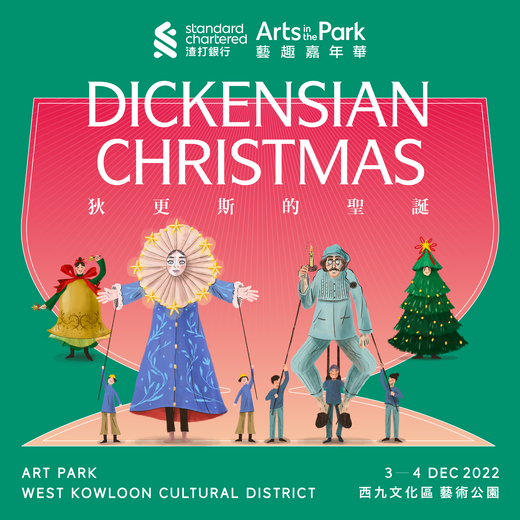 10/11/2022
Miller Performing Arts: I'mperfect
Our flagship theatre production I'mperfect – a tale of three teenage girls and their journey to self-esteem – opens this November. Public ticket sales start on 26 September 2022 at 12 pm at POPTICKET.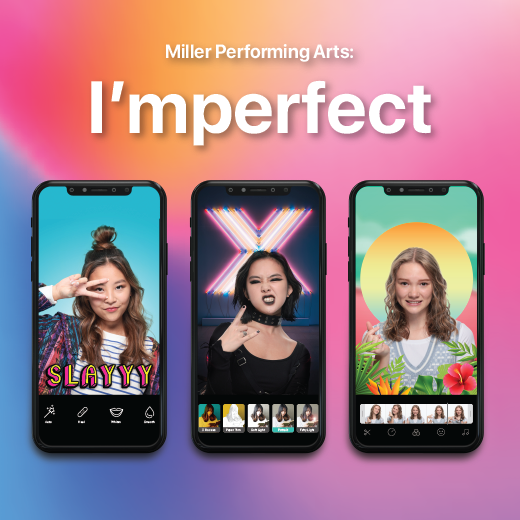 22-23/10/2022
Lee Gardens Street Art Festival presented by Lee Gardens Xplore
The first-ever Lee Gardens Street Art Festival presented by Lee Gardens Xplore takes inspiration from the city's natural heritage to bring "The Wonder of Insects" to Causeway Bay!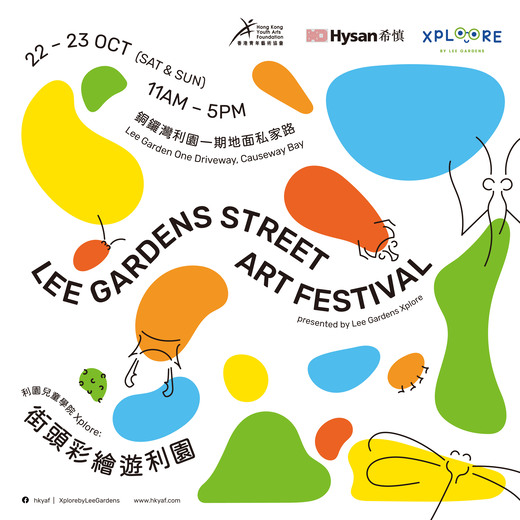 Song Seeds: Music Mixtape - Digital Release
Four original English songs are ready to launch as the Song Seeds: Music Mixtape on 35 online streaming platforms worldwide including YouTube, Spotify, Apple Music, KKBOX, Joox and more on 13 October 2022!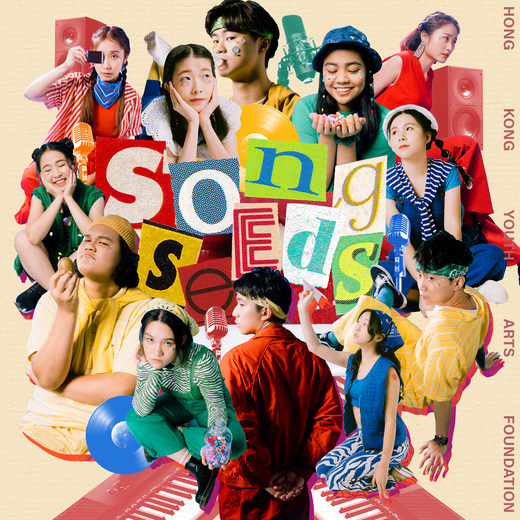 The "East Rail Line ‧ Fun Fun Art" Train Creation Project
Looking for a way to make travelling on a train more fun? Hop on the colourful community-themed "East Rail Line ‧ Fun Fun Art" train running between the Northeast New Territories, Kowloon Central and Hong Kong Island from now until the end of 2022 and admire this new piece of moving art!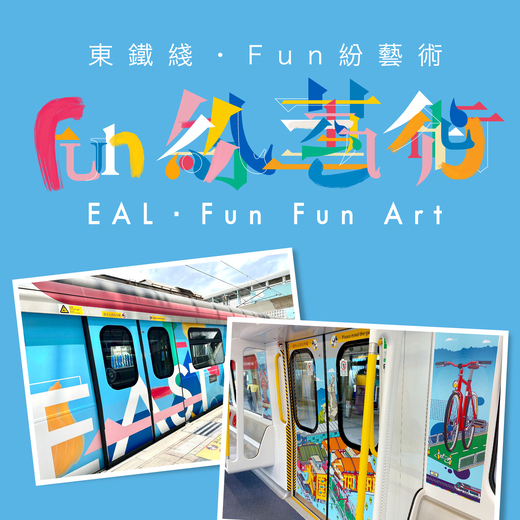 01-07/08/2022
Jockey Club "Project Silver" Intergenerational Arts Project 2022 – The Joyful Studio
This summer, as well as providing photo retouching and photography services for elderly members of the community, The Joyful Studio features an exhibition of more than 30 childhood photos from the 1950s to 1970s on the theme of "Happy childhood".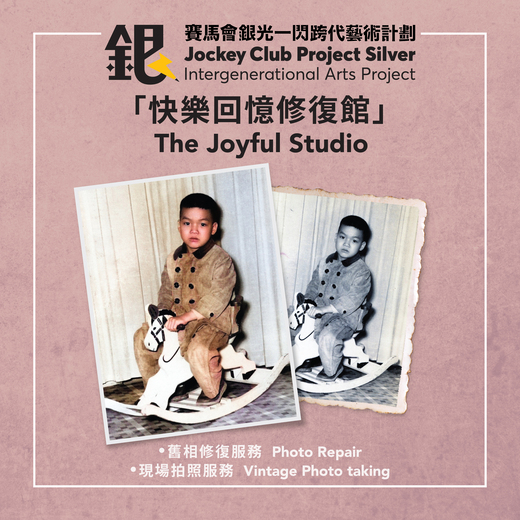 23/07/2022
Beyond Environmental Arts Festival
Under the theme "Waste not, want not", the first-ever Beyond Environmental Arts Festival presents a short theatrical performance Time4Change about the work of five environmental pioneers, four upcycling workshops – "Reclaimed Wood Coasters", "Miniature Fabric Dolls", "Paper Porcupine Puppets" and "Plastic Insect Pins" – on how to create art out of recycled materials, as well as environmental art installations by local artists.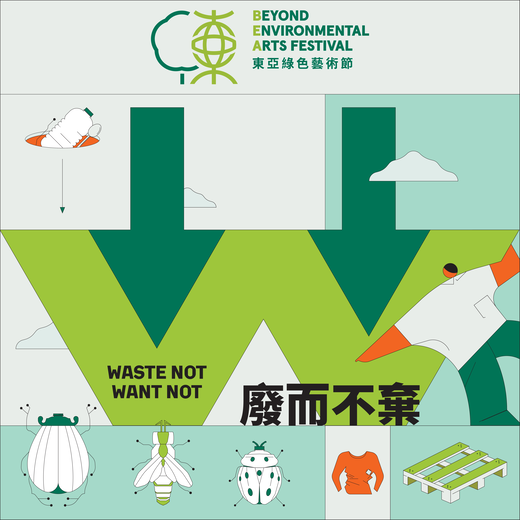 01/07-31/08/2022
Jockey Club "Project Silver"– Intergenerational Arts Project "Every Note Counts": Seeking Volunteer Musicians
Music has the power to heal and inspire. If you are a musician or singer keen to share your passion for music with the community, join us and support our volunteer programme Every Note Counts!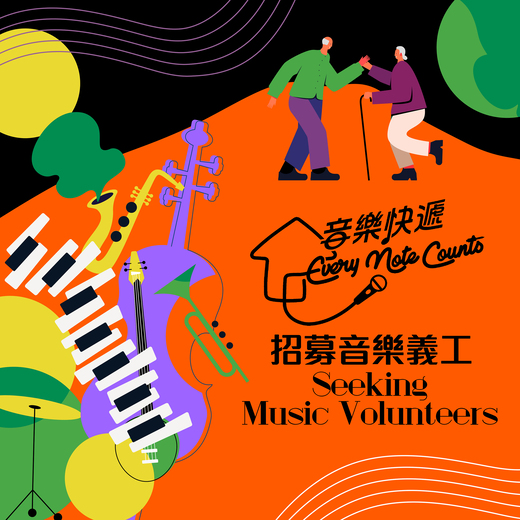 23/05-01/06/2022
HK Urban Canvas 2022 – Exhibition
This year, the HK Urban Canvas 2022 Exhibition showcases a total of 83 shopfront shutter artworks that we have created in nine districts over the past four years.