Home > Events > The Hong Kong Jockey Club Community Project Grant: stART Up Community Arts Project 2022-This is How We Sign! Online Sign Language Workshops
The Hong Kong Jockey Club Community Project Grant: stART Up Community Arts Project 2022-This is How We Sign! Online Sign Language Workshops
03/04/2022; 09/04/2022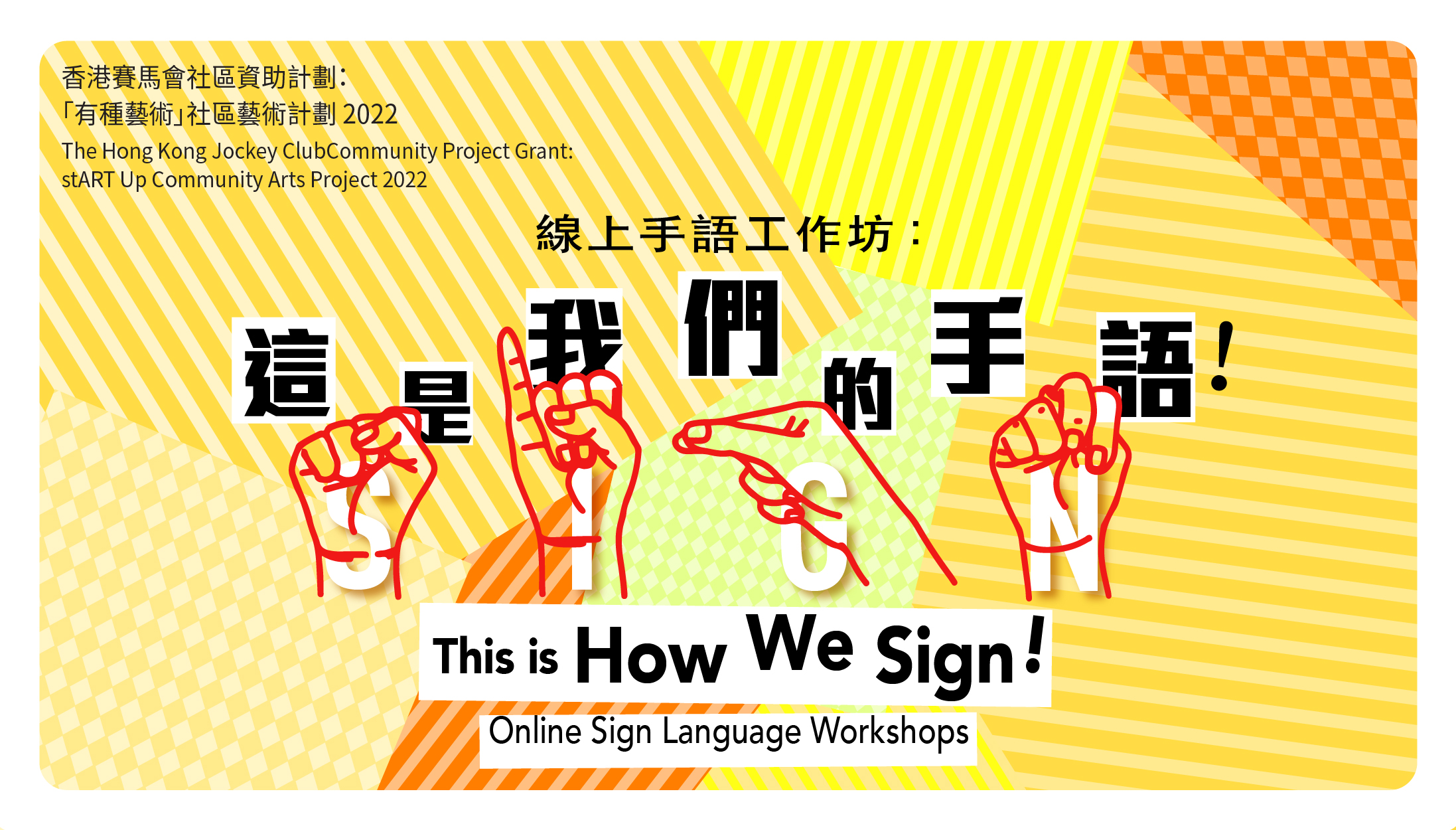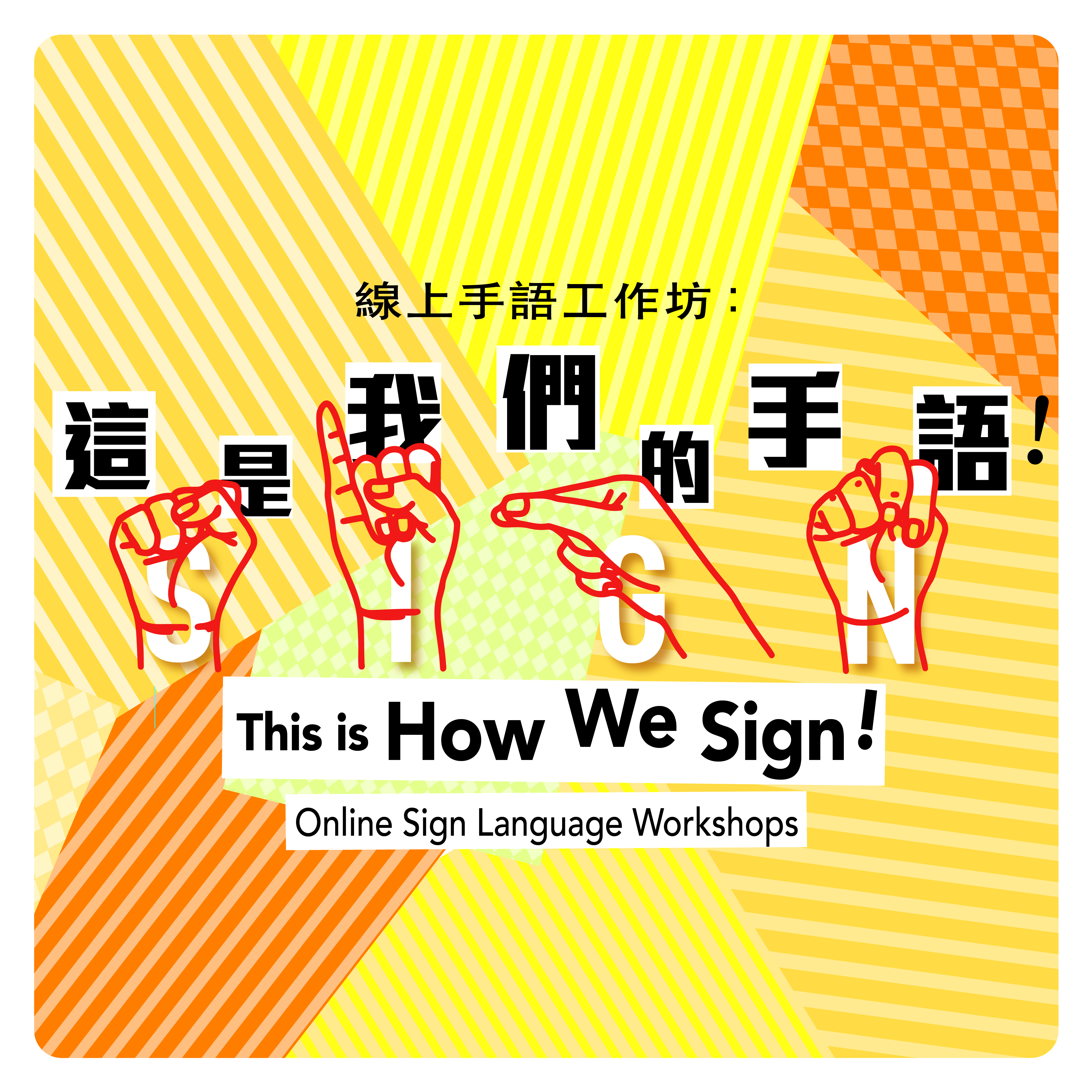 √What if your hands did the talking? What "accent" would they have? Around the world, sign languages, like spoken languages, have developed naturally with their own inflections and cultures. But how much do you know about sign language in Hong Kong or the Hong Kong deaf community? Join our Online Sign Language Workshop: This is how we sign! and we'll help you connect and communicate with deaf individuals.

Earlier this year, a group of HKYAF dancers and singers worked with a deaf teacher from SLCO Community Resource to learn the basic elements of Hong Kong sign language and gain a deeper understanding of the life and communication culture of the local deaf community. Together with a professional choreographer and music director, they created the artistic video Signs of Light to celebrate the richness of our local sign language.

As an extension of this programme, we are now presenting two workshops offering an opportunity for everyone to learn more about deaf culture directly from members of the community. In both sessions, Malvin Tam, the choreographer of Signs of Light, also discusses the creative ideas behind the video. Join us to embrace deaf culture and co-create a special work.

Workshop 1 - Deaf Culture 101(FULL)
Date: 3 April, 2022 (Sun)
Time: 11am – 12:30pm
Event type: Online Workshop
Details: Deaf teachers share insight into everyday sign language and Deaf culture and how to communicate with Deaf individuals.

*Due to the overwhelming response, Workshop 1 - Deaf Culture 101 has already been fully booked.
Workshop 2 - A Deaf Storyteller(FULL)
Date: 9 April, 2022 (Sat)
Time: 11am – 12:30pm
Event type: Online Workshop
Details: Participants communicate with members of the Deaf community about the ups and downs of daily life as a deaf person, and reflect on how to create a more empathetic and inclusive society.

*Due to the overwhelming response, Workshop 2 - A Deaf Storyteller has already been fully booked but we are still accepting applications to be placed on the waitlist and will notify you via email if there are any remaining quotas.
​*Participants may sign up for both workshops.​
TAGS:
Performing Arts, Sign language
Finished
Information
Workshop 1: Deaf Culture 101
Date: 03/04/2022 (Sun)
Time: 11:00am-12:30pm
Registration Deadline: 1/04/2022 (Fri)

Workshop 2: A Deaf Storyteller
Date: 09/04/2022 (Sat)
Time: 11:00am-12:30pm
Venue: Online workshop, the link will be provided in the confirmation email
Fee: Free admission, online application
Registration Deadline: 6/04/2022 (Wed)
Enquiries: mag@hkyaf.com / 2877 2656
Suitable for: Suitable for ages above 12
Note: Conducted in Cantonese

THIS EVENT HAS FINISHED!
And it was very successful! Sign up to our mailing list to be the first to hear about upcoming events… don't miss out!
Share
Tell your friends about this event!
Funded by


​
Related Events
01/10/2022-31/01/2023
"ArtBeat" Serving Seniors: Seeking Youth Volunteers
Volunteer with us and be part of a team delivering a pioneering digital music programme for the elderly!

29/08/2022-01/12/2023
Standard Chartered Youth Creative Industry Employment Scheme – "Unplugged" Filmed Performance for Schools
Our filmed physical theatre production Unplugged is designed to help senior primary school students learn how to navigate the online world. Educating students through entertainment, the 30-minute performance video is offered to schools free of charge.

01/08-30/12/2022
Miller Performing Arts: #BeTheChange: Evergreen
Our new dance film Evergreen explores the relationship between humans and the living earth. Living, breathing and growing together, the trees find peace and groundedness in nature.

01/05/2022-01/05/2023
Recruiting Professional Costume Designers (Project-based)
If you are a costume designer looking for a stage to showcase your work and a chance to engage with the community, join us and bring stories to life through creative costumes!