Home > Events > The Hong Kong Jockey Club Community Project Grant: stART Up Community Arts Project 2022 - I Am...connected
The Hong Kong Jockey Club Community Project Grant: stART Up Community Arts Project 2022 - I Am...connected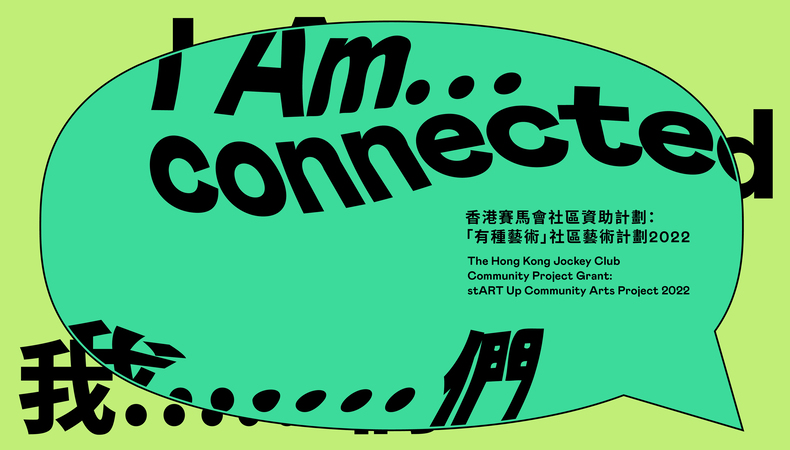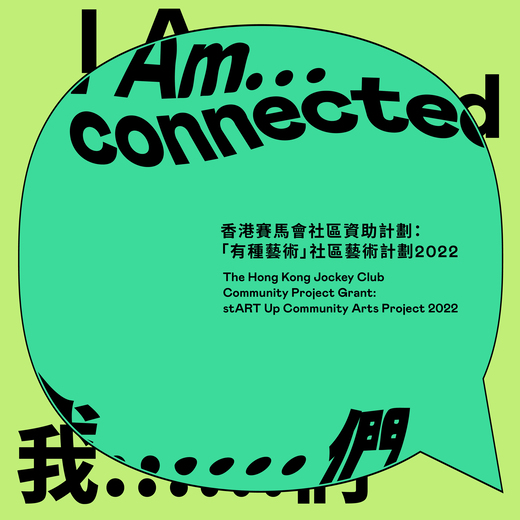 I Am...connected

" I Am...connected" , as part of The Hong Kong Jockey Club Community Project Grant: stART Up Community Arts Project 2022 , looks at how learning foreign languages, sign language and braille enhances our understanding of other people and cultures through music, dance, drama and arts and crafts videos. The works include Online Sign Language Workshop: Deaf Culture 101 and A Deaf Storyteller, RAW x Unsung Heroes - One Love in Voices, Signs of Light, Tactile Icon Creation, and Cantonese Proverbs and Idioms Illustration Poster Design Online Exhibition.

Watch the entire series here or scroll down to explore the video playlists by category.
---
Online Sign Language Workshop

​Around the world, sign languages have developed naturally with their own inflections and cultures, just like spoken languages. In our two online Sign Language Workshops: Deaf Culture 101 and A Deaf Storyteller – guided by SLCO Community Resource – Deaf teachers share insight into everyday sign language and how to communicate with Deaf individuals.
---
RAW x Unsung Heroes - One Love in Voices
RAW x Unsung Heroes - One Love in Voices is a collaboration between HKYAF's a cappella team RAW and the Unsung Heroes choir, whose members are all part of Hong Kong's foreign domestic workers community. Working with experienced music director Ivy Hung, they perform their own rendition of a mash-up of Seasons of Love and the Tagalog classic Isang Mundo, Isang Awit (One World, One Song). Since last November, the singers practised together every Sunday to prepare for the audio and video recording. The resulting work shows the power of music to bring people together regardless of cultural background, language and occupation. Watch now and let music connect us!
---
Signs of Light
In the short dance and music video Sign of Light, youngsters share their passions and dreams! Working with a deaf teacher from SLCO Community Resources, a group of talented HKYAF dancers gained insight into Cantonese sign language and the life experience and culture of the deaf community in Hong Kong. They then worked with choreographer Malvina Tam to interpret the song She Remembers, He Forgets (哪一天我們會飛), incorporating Cantonese sign language into their moves. The song is sung by HKYAF singers trained by music coach Ivy Hung. The video was created to encourage people to pursue their dreams, regardless of their age, language and ability – and to show that passion is a universal language that transcends words!
---
Tactile Icon Creation
In these videos, Dr Rico Chan, the founder of Beyond Vision International, introduces a system of tactile visual vocabulary that helps visually impaired people understand complex graphic elements in our environment – and demonstrates how to create tactile icons!
---
Cantonese Proverbs and Idioms Illustration Poster Design Online Exhibition
Students from five primary and secondary schools – Chang Pui Chung Memorial School, International Christian Quality Music Secondary and Primary School, Munsang College Primary School, SKH Li Fook Hing Secondary School and The Church of Christ in China Kei To Secondary School – worked with artist Candice Keung to create illustrations of fun Cantonese proverbs and learn about local advertising designs from the 1970s and 1980s. To see how the students interpreted the humorous visual possibilities of Cantonese proverbs, visit our online showcase
TAGS:
Performing Arts, Visual Arts, Language
THIS EVENT HAS FINISHED!
And it was very successful! Sign up to our mailing list to be the first to hear about upcoming events… don't miss out!
Share
Tell your friends about this event!
Funded by


​
Related Events
01/10/2022-31/01/2023
"ArtBeat" Serving Seniors: Seeking Youth Volunteers
Volunteer with us and be part of a team delivering a pioneering digital music programme for the elderly!

29/08/2022-01/12/2023
Standard Chartered Youth Creative Industry Employment Scheme – "Unplugged" Filmed Performance for Schools
Our filmed physical theatre production Unplugged is designed to help senior primary school students learn how to navigate the online world. Educating students through entertainment, the 30-minute performance video is offered to schools free of charge.

07/08-31/12/2022
The "East Rail Line ‧ Fun Fun Art" Train Creation Project
Looking for a way to make travelling on a train more fun? Hop on the colourful community-themed "East Rail Line ‧ Fun Fun Art" train running between the Northeast New Territories, Kowloon Central and Hong Kong Island from now until the end of 2022 and admire this new piece of moving art!

01/08-30/12/2022
Miller Performing Arts: #BeTheChange: Evergreen
Our new dance film Evergreen explores the relationship between humans and the living earth. Living, breathing and growing together, the trees find peace and groundedness in nature.

01/05/2022-01/05/2023
Recruiting Professional Costume Designers (Project-based)
If you are a costume designer looking for a stage to showcase your work and a chance to engage with the community, join us and bring stories to life through creative costumes!