Home > Events > ArtisTree Selects: Theatre Bites – No Kids
ArtisTree Selects: Theatre Bites – No Kids
20-22/06/2019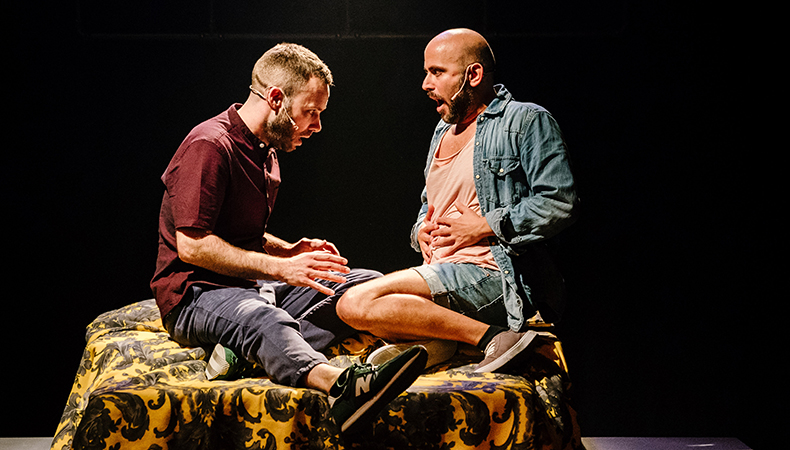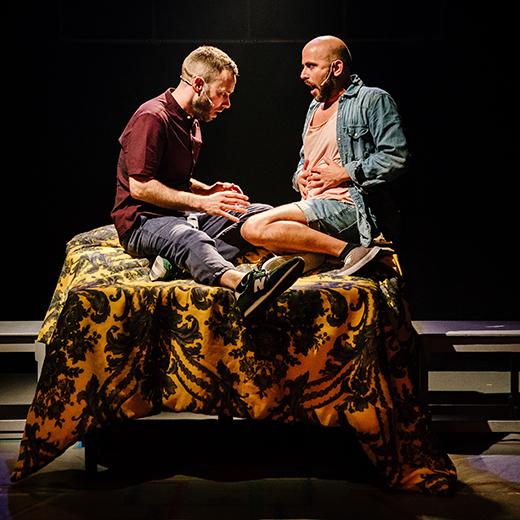 No Kids is the latest energetic, hilarious, moving and thought-provoking play from the multi-award-winning Bristol-based company, Ad Infinitum.
Should we have kids, or not? George and Nir are a real-life same-sex couple trying to answer a question many of us face. Every consideration – adoption, surrogacy, co-parenting, the environmental impact of childbirth, the fears and anxieties, how the past affects parenting and much, much more – brings with it a succession of ethical challenges. Together, George and Nir confront this chaos head-on. And invite you along for the ride.
"It's a beautiful and touching experience, leaping from flights of fantasy to grim seriousness and brimming with laughter and tears throughout" ★★★★ British Theatre Guide
The Guardian: One of 'Best of Edinburgh Festival 2018'
Performances currently on sale (via the Taikoo Social app)
- Saturday, 22 June (4:30pm)
- Saturday, 22 June (9pm)
Talk (on sale soon)
- Thursday, 20 June (12:30pm)
---
Part of ArtisTree Selects: Theatre Bites. Theatre Bites offers five irresistible and bite-sized British plays presented in collaboration with Lindsey McAlister, founder of Hong Kong Youth Arts Foundation (HKYAF), and Tony Awards-winning producer Brian Zeilinger. Tuck into everything from highly entertaining tales of spies and gangsters, to the most hotly debated global and social issues of our time: environmental, gender and diversity. Presented alongside the thought-provoking live performances, Theatre Bites will give you the chance to see what happens behind the scenes through open rehearsals and talks for selected shows.
Other ArtisTree Selects: Theatre Bites Programmes
- If Not Me, Who?
- Sitting
- Our Man in Havana
- Tobacco Road
Download and book tickets via Taikoo Social app
TAGS:
Performing Arts
Information
Theatre Performance
Date: 20-22/06/2019 (Thu-Sat)
Venue: ArtisTree, 1/F Cambridge House, Taikoo Place, King's Road 979, Quarry Bay
Enquiries: anca@hkyaf.com
Ticketing: Download and book via Taikoo Social app
Suitable for: ages 14 and above
Note: Approximately 65 minutes with no intermission. Performed in English

Related Events
11/10-15/11/2019
Miller Performing Arts: Pull Back the Curtain 2019 Plus Scriptwriting Initiative Seeking Adult Participants
We are now offering a new edition of our very successful student scriptwriting initiative Pull Back the Curtain – this time with workshops specially devised for participants aged over 25! Join us, and let us help you put pen to paper and bring your scriptwriting ideas to life.

18-22/06/2019
ArtisTree Selects: Theatre Bites – Tobacco Road
Through explosive physical style, Tobacco Road tells the story of five resourceful young men and women attempting to carve out a place in the murky underworld of 1920's London.

14-22/06/2019
ArtisTree Selects: Theatre Bites - If Not Me Who
"If Not Me, Who?" is an urgent piece of eco-theatre that looks at the effects of climate disruption and how we can be motivated to change our way of life.

13-15/06/2019
ArtisTree Selects: Theatre Bites – Sitting
Written by the Olivier nominee and BAFTA Award-winning, star of Channel 4's The IT Crowd, Katherine Parkinson.

13-15/06/2019
ArtisTree Selects: Theatre Bites – Our Man in Havana
An award-winning comedy by Spies Like Us, packed with suspense, suspicion and silliness using only five actors and a vacuum cleaner in their trademark explosive physical style.