Home > Events > ArtisTree Selects: Theatre Bites – No Kids
ArtisTree Selects: Theatre Bites – No Kids
20-22/06/2019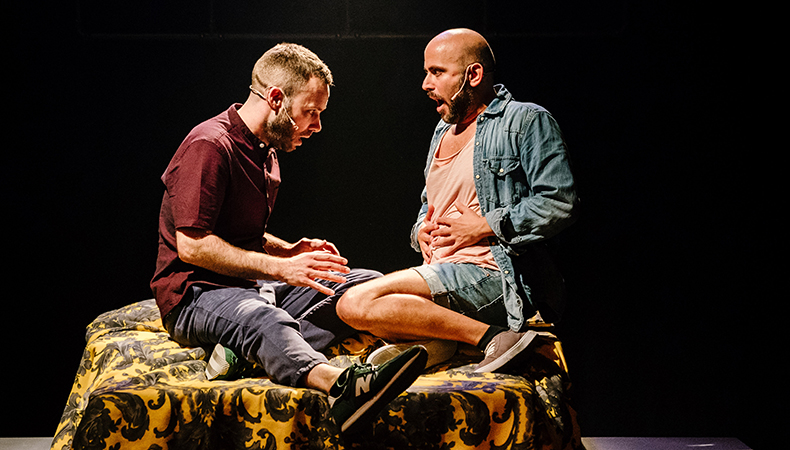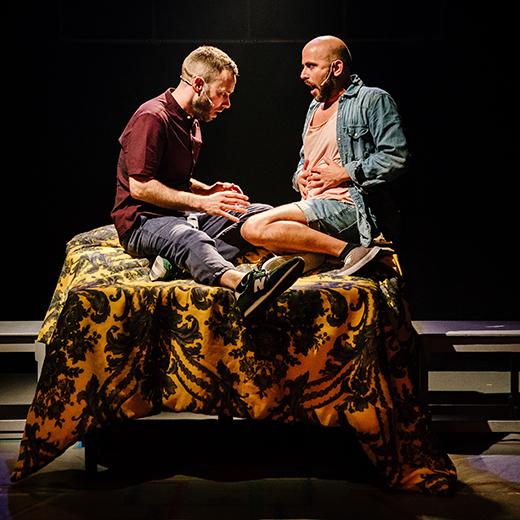 No Kids is the latest energetic, hilarious, moving and thought-provoking play from the multi-award-winning Bristol-based company, Ad Infinitum.
Should we have kids, or not? George and Nir are a real-life same-sex couple trying to answer a question many of us face. Every consideration – adoption, surrogacy, co-parenting, the environmental impact of childbirth, the fears and anxieties, how the past affects parenting and much, much more – brings with it a succession of ethical challenges. Together, George and Nir confront this chaos head-on. And invite you along for the ride.
"It's a beautiful and touching experience, leaping from flights of fantasy to grim seriousness and brimming with laughter and tears throughout" ★★★★ British Theatre Guide
The Guardian: One of 'Best of Edinburgh Festival 2018'
Performances currently on sale (via the Taikoo Social app)
- Thursday, 20 June (9pm)
- Friday, 21 June (9pm)
- Saturday, 22 June (4.30pm, 9pm)
Talk (free)
- Thursday, 20 June (12:30pm)
---
Part of ArtisTree Selects: Theatre Bites. Theatre Bites offers five irresistible and bite-sized British plays presented in collaboration with Lindsey McAlister, founder of Hong Kong Youth Arts Foundation (HKYAF), and Tony Awards-winning producer Brian Zeilinger. Tuck into everything from highly entertaining tales of spies and gangsters, to the most hotly debated global and social issues of our time: environmental, gender and diversity. Presented alongside the thought-provoking live performances, Theatre Bites will give you the chance to see what happens behind the scenes through open rehearsals and talks for selected shows.
Other ArtisTree Selects: Theatre Bites Programmes
- If Not Me, Who?
- Sitting
- Our Man in Havana
- Tobacco Road
Download and book tickets via Taikoo Social app
TAGS:
Performing Arts
Information
Theatre Performance
Date: 20-22/06/2019 (Thu-Sat)
Venue: ArtisTree, 1/F Cambridge House, Taikoo Place, King's Road 979, Quarry Bay
Enquiries: anca@hkyaf.com
Ticketing: Download and book via Taikoo Social app
Suitable for: ages 14 and above
Note: Approximately 65 minutes with no intermission. Performed in English

THIS EVENT HAS FINISHED!
And it was very successful! Sign up to our mailing list to be the first to hear about upcoming events… don't miss out!
Share
Tell your friends about this event!
Related Events
10/10/2019, 08-10/11/2019
Standard Chartered Arts in the Park 2019: Seeking Youth Volunteers
We are now seeking youth volunteers to join our fabulous Standard Chartered Arts in the Park 2019!

11/10-15/11/2019
Miller Performing Arts: Pull Back the Curtain 2019 Plus Scriptwriting Initiative Seeking Adult Participants
We are now offering a new edition of our very successful student scriptwriting initiative Pull Back the Curtain – this time with workshops specially devised for participants aged over 25! Join us, and let us help you put pen to paper and bring your scriptwriting ideas to life.